Posted by Murraylands Training & Employment on 18 December 2019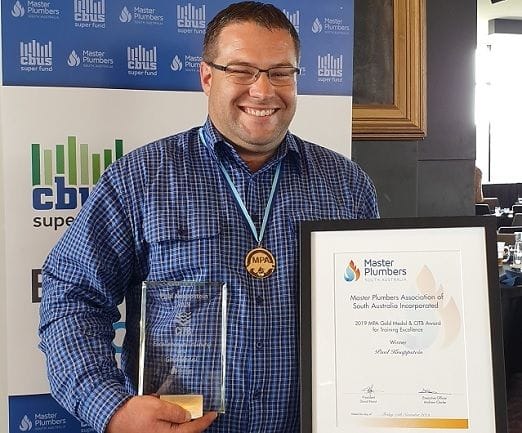 MT&E would like to congratulate recent Apprentice graduate Paul Knappstein on his 2019 MPA Gold Medal & CITB Award for Training Excellence win from Master Plumbers Association and Construction Industry Training Board.
Paul received the highest award for plumbing in the state after being just one of four nominees in the training excellence award. Paul is hosted by local company Haig & Menzel Plumbing and he has proven to be a great asset to the company and the region.
This is Paul's second award win this year as earlier he won an award as an Outstanding Certificate III Student from TAFE SA.
Congratulations Paul!
Posted by Murraylands Training & Employment on 16 December 2019
NEW WEBSITE - We are very excited that we have launched our new Murraylands Training & Employment website!
MT&E are the solution to your employment and training hassles.
A community-based, not for profit Group Training organisation, we are training and recruitment specialists, committed to the growth and development of skills in the region.
Posted by Murraylands Training & Employment on 10 December 2019
Our Objectives underpin our Mission Statement
OUR MISSION STATEMENT
Murraylands Training & Employment is committed to providing excellence in all aspects of recruitment, training and employment